Orders R1000 and more from our online shop qualify for 10% discount. For easy ordering, click online shop, then on flowers or catagory of your choice to get list of items with photos. For more info click on item.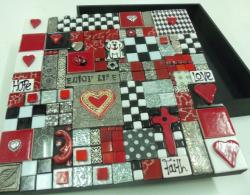 Trunell is well known for handmade ceramic inserts and tiles that we manufacture and wholesale to craft and mosaic shops country wide. We're also currently the funkiest mosaic shop in the Vaal Triangle. We stock the largest variety of tiles and inserts in the area, as well as tools, wooden blanks, bisque, smalti, millifiori, books, paints, grouts and glues needed for mosaics. We also stock all products for pewter and sculpey mixed media art
Our mission is to be able to supply everything that you might need for mosaic and to deliver the best service possible to all our customers. Our staff is friendly and knowledgeable and we strive to please at all times.